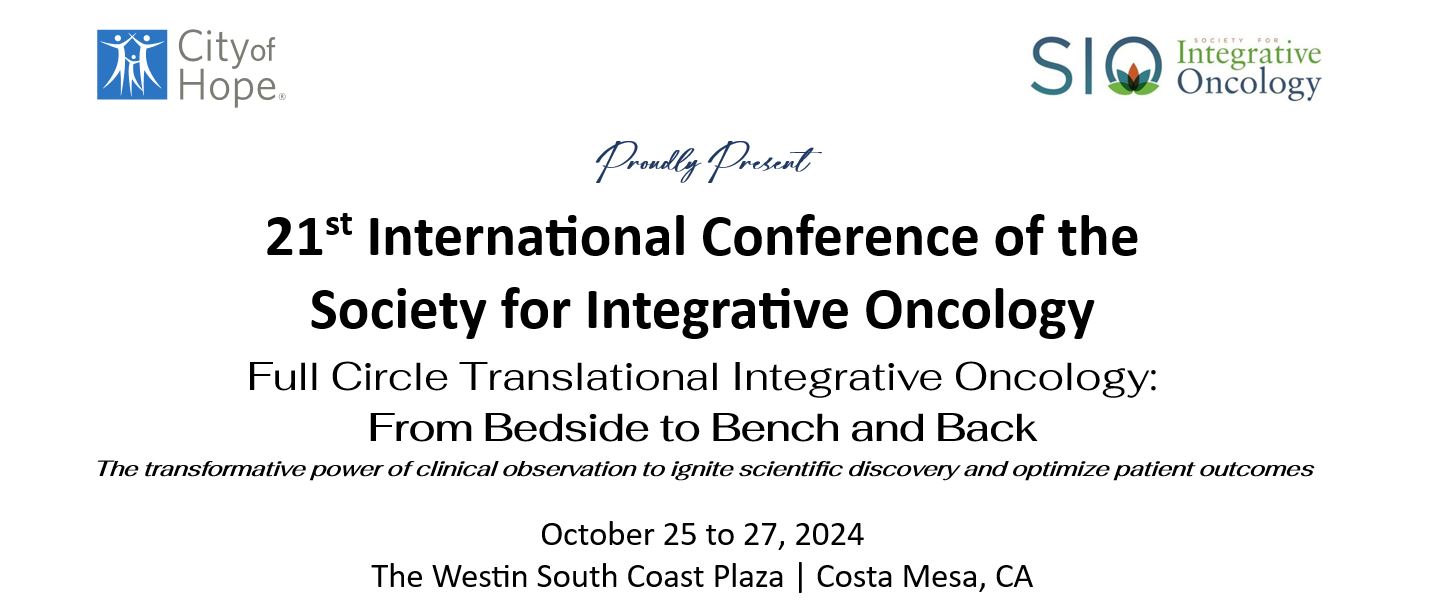 21st International Conference of the SIO OVERVIEW
Each year, the American Cancer Society estimates the number of new cancer cases and deaths that will occur in the United States. In 2023, over 1.9 million new cancer cases were projected to be diagnosed and 609,820 cancer deaths were projected to occur.  The Institute of Medicine's "Cancer Care for the Whole Patient" reports that failure to address psychosocial concerns in this patient population, such as emotional problems, lack of information, transportation or other resources, as well as disruption in their "normalcy", adversely affects the health care delivery, and weakens patient adherence, ultimately threatening the patient's quality of life. 
The World Health Organization defines quality of life as "an individual's perception of their position in life in the context of the culture and value systems in which they live and in relation to their goals, expectations, standards and concerns", which supports the need to connect with and fully understand that patient's views and needs, in order to be able to offer appropriate supportive and integrative oncology services. Equally important, is the need for the patient care team to fully understand, and embrace the benefits of integrative oncology and improving cancer care as a whole. 
Studies show integrative therapies can support better health, improved quality of life and optimal clinical outcomes, however, remaining current on the latest evidence is challenging for many clinicians working in oncology, as well as the larger oncology community. By attending this conference, clinicians, trainees and patient advocates will have the opportunity to attend keynote lectures, plenaries, concurrent sessions and workshops focused on advancing knowledge and clinical practice related to integrative oncology, in addition to the opportunity to network at social and special interest group events, identifying new areas of future collaboration.
This conference aims to unlock the scientific potential behind integrative cancer therapies and establish an evidence-based standard of care, by highlighting the latest evidence in integrative oncology as well as innovative research methodology. As a result, clinicians may change their practice, and researchers may identify new areas of exploration or innovative ways to conduct their research, all with the sole aim to improve cancer patients' quality of life. As Samuel H. Golter, one of City of Hope's early leaders, summarized it, "There is no profit in curing the body if, in the process, we destroy the soul."
THIS INTENSIVE PROGRAM WILL PROVIDE PARTICIPANTS WITH A "WHOLE" NEW APPROACH TO CANCER CARE,
ELEVATING STANDARD OF CARE THROUGH RESEARCH, VIA A COMPREHENSIVE INTEGRATIVE APPROACH
AS PART OF OPTIMAL CANCER CARE AND SURVIVORSHIP.
COURSE HIGHLIGHTS
Intersection of Spiritual Care and Integrative Oncology
Natural Products and Immunotherapy
Artificial Intelligence/Machine Learning and Integrative Oncology
Metabolomics and Nutrition
Wellness Sessions
Leading-edge Research in the Field of Integrative Oncology
TARGET AUDIENCE
Physicians, advance practice providers, nurses, acupuncturists, massage therapists, mind-body medicine practitioners, music therapists, art therapists, clinical researchers, basic scientists, health services researchers, patient advocates, and the public.
LEARNING OBJECTIVES
Outline the latest evidence and guidelines regarding exercise oncology and its application in integrative oncology care. 
Implement the SIO/ASCO clinical practice guidelines for anxiety/depression and fatigue in oncology care.
Examine trauma-informed care principles in integrative oncology clinical practice.
Assess the current evidence, experience and potential of psychedelic therapies in integrative oncology care.
Discuss possible barriers and biases which may impact patient care (i.e., race, ethnicity, language, gender identity/orientation, age, socioeconomic status, attitudes, feelings, or other characteristics).
THIS ACTIVITY HAS BEEN APPROVED FOR AMA PRA CATEGORY 1 CREDITTM
 
CALL FOR ABSTRACTS COMING SOON!


WILL YOU JOIN US FOR THE
21st International Conference of the
Society for Integrative Oncology?
October 25 to 27, 2024
The Westin South Coast Plaza | Costa Mesa, CA

FOR MORE INFORMATION
Please contact the Department of Continuing Medical Education at cme@coh.org.