Pediatric Grand Rounds | Recordings
The Pediatric Grand Rounds are designed with the healthcare provider and research team in mind. The aim of each presentation is to close the gap between current and ideal practice, with the ultimate goal of bringing the most advanced cancer care to City of Hope's pediatric patient population. 
If you missed a live presentation or would like to revisit a specific topic, you will be able to access the recordings once you start this activity. 
Target Audience
Pediatric Hematology/Oncology physicians, advance practice practitioners, staff and research team.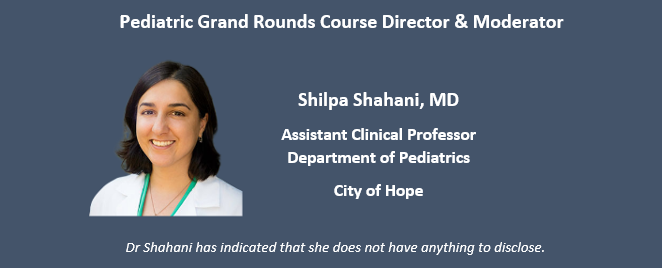 The original Pediatric Grand Rounds were planned and implemented in strict compliance with the accreditation requirements, standards, and policies of the ACCME. City of Hope takes responsibility for the content, quality and scientific integrity of these CME activities.
As an accredited CME provider City of Hope requires everyone who is in a position to control the content of an educational activity to disclose all relevant financial relationships with any commercial interest. The ACCME defines "relevant financial relationships" as financial relationships in any amount, occurring within the past 12 months, including financial relationships of a spouse that could create a conflict of interest. Any potential conflicts relative to the previous disclosure have been resolved.
Written disclosure of all such relevant commercial relationships will be provided on the Faculty tab of each enduring. Any potential conflicts relative to the previous disclosure have been resolved.
City of Hope further encourages faculty/ authors to identify investigational products or off-label uses of products regulated by the U.S. Food and Drug Administration, at first mention and where appropriate in the content.
The information and opinions presented in these activities do not constitute medical or legal advice. Health care providers must exercise their own professional judgment in their clinical practice, and when confronted with the issues discussed herein, should not substitute this curriculum for the advice of legal counsel or application of sound ethical principles.
 
Once logged in, please click on "Start Activity" to view and access the available Pediatric Grand Rounds modules. 
Note: You will have access to the modules as an Enduring activity. Each enduring will be available for 1 year from date the activity opens. 
Required Hardware/software
Current version of Edge, Firefox, Safari, or Chrome.